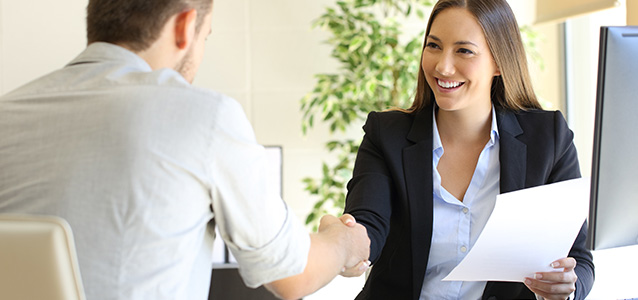 Working with a recruiter is a great way to jumpstart your job search, but you already know that. Now that you've decided to team up with a staffing professional, you're probably feeling both excited and nervous for your first meeting.
Expect it to feel a lot like a job interview, because you need to make a great impression. Recruiters don't put their name behind just any candidate, so you need to prove you're worthy of their time and effort. Here are a few tips to present yourself as a responsible and enthusiastic professional ready to do your part to land an incredible opportunity.
Decide What You Want
Your recruiter wants to help you find a job that checks all your boxes, but they're not a mind reader. Prime yourself for the meeting by thinking long and hard about where you're headed next. This includes both the type of job you want and your ideal company culture. You need to be able to articulate this to your recruiter, so they know what kind of opportunities to focus on.
Bring All Requested Materials
If your recruiter asks you to bring something to the interview —e.g., resume, portfolio, reference list — don't forget. This shows your ability to follow instructions and desire to hold up your end of the deal. Even if you're not specifically asked to bring copies of your resume or examples of your work, it's wise to do so, because there's no such thing as being too prepared.
Practice Responses to Common Interview Questions
It's not a traditional interview, but your first meeting with a recruiter still falls into this category. Expect to be asked a lot of standard interview questions, because the more they know about you, the better equipped they'll be to find a great fit. Crafting robust answers for questions like "Describe your ideal work environment" and "Why do you want to leave your current employer?" will give them plenty of information to guide your search.
Create Your Own List of Questions
Recruiters want to work with candidates who are actively engaged in the process. Show your desire to be a hands-on participant by arriving with a list of questions. Ask about their track record for placements in your field, find out how the search process works and inquire about any relationships they have with companies you're interested in.
Be Ready to Share Your Job Search Progress
Your recruiter can't properly represent you unless they're in the loop on all your job search activity. Bring a list of every company you've applied to thus far in the process, so they know which positions to avoid. From their perspective, it's frustrating to present you to a hiring manager, only to learn you've already applied for the job on your own.
Ready to take on a new career challenge? Management Registry, Inc. is here to guide you through the search process. Contact us today to find a healthcare, travel healthcare, general labor, correctional, call center, HR, logistics and distribution, accounting/finance, or IT opportunity that meets your needs!