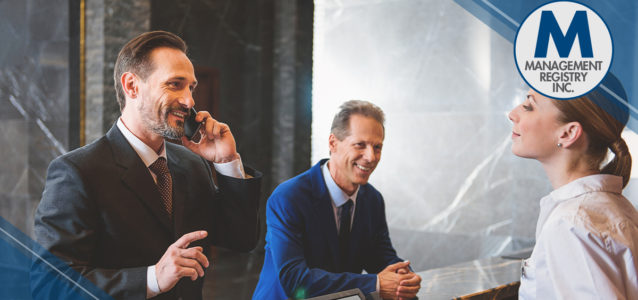 No doubt, you've probably noticed that receptionist and administrative assistant job titles are often used interchangeably — but they're not the same thing. If you know you're interested in this line of work, but aren't sure which type of job to pursue, you're not alone. 
While the two jobs are similar in nature, administrative assistants tend to have more responsibility than receptionists. Therefore, they typically earn more and can be required to have completed a higher level of formal education.  
Here's a deeper look at the difference between receptionists and administrative assistants, so you can decide which type of job is the best fit for you. 
Job Duties
Generally speaking, receptionists and administrative assistants both provide support to their employers. However, the type of responsibilities involved in their daily work tends to vary more than most people realize. 
Receptionist:

 Serving as more of the face of the company, receptionists welcome clients, answer questions, and make people feel 

comfortable

 upon entering the building.

 

Administrative Assistants:

 Working closely with managers and employees, administrative assistants provide support for internal operations.

 Work is often specialized by industry — i.e., medical administrative assistants might perform medical coding work, while others could be responsible for bookkeeping.

 

Both:

 These two types of roles typically overlap in many ways, including answering phone calls, 

handling scheduling, and managing documents on the computer.

 
Education Requirements
Generally speaking, a high school diploma or equivalent is often the minimum education needed to secure a receptionist or administrative assistant position. However, proficiency with basic computer programs — i.e., Microsoft Word, Excel, Outlook — is also typically required. 
However, administrative assistants working in specialized fields — i.e., medical or legal — are often required to have specialized training or industry experience. If you're planning to pursue this type of position, you'll likely need to complete some kind of training to learn industry-specific terminology and applications.
 
Average Salaries
According to the Bureau of Labor Statistics, receptionists earn a median hourly wage of $14.49 as of May 2019. The lowest 10% earned less than $10.16 per hour and the highest 10% earned more than $20.86 per hour.
 
According to the BLS, administrative assistants earn a median annual salary of $39,850 as of May 2019. The lowest 10% earned less than $25,720, and the highest 10% earned more than $65,510.
 
Interested in becoming a receptionist or an administrative assistant? Management Registry, Inc. is here to help you find an opportunity that checks all your boxes. Contact us today to find out what we can do for you!