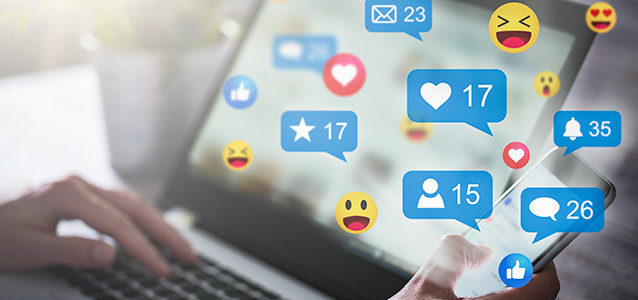 If you don't think potential employers are checking out your social media presence, you're very mistaken. In fact, 70% of employers use social networking sites to research candidates, and 22% are looking for a reason not to hire the candidate, according to CareerBuilder. 
The last thing you want is a few pictures or posts shared in poor taste to ruin your chances of getting a job you really want, so protecting your online presence is a must. Here's some advice to help you create the kind of social media presence employers want to see. 
5 Tips for a Polished Online Presence
Separate Your Personal and Professional Profiles
Mixing business with pleasure is typically a bad idea, and this holds true with social media. Put accounts used personally on lockdown, so only followers you personally know can see the content. Create separate accounts for public viewing that will serve as your professional profiles. This will allow you to enjoy the best of both worlds while maintaining easy control over your public persona. 
Only Post Photos You'd Want Your Boss to See
Assume all content posted on your public social media profiles will be viewed by potential employers. With this in mind, only choose photos that align with your professional image. Save the vacation pictures for your personal accounts and focus your business profiles on photos that portray you as a consummate professional — i.e., headshots, projects you're working on, or photos from conferences you attended. 
Share Content Related to Your Field
Employers want to hire candidates who are truly passionate about their work, so use your public social media profiles to demonstrate this. Post relevant news articles, share your thoughts on the latest trends, and give updates on work you're doing. It's also wise to follow your peers and comment on their posts, as this shows you care enough to stay involved in the industry outside the office. 
Avoid Controversial Subjects
Professional social media accounts are not the place to stir up debates on touchy subjects — i.e., politics and religion. If a potential employer sees you promoting something — i.e., a presidential candidate — they don't agree with, it could ruin your chances of getting hired. If you're at all hesitant about a post, err on the side of caution and don't do it. 
Proofread Before Posting
If you're like most people, you quickly type most of your social media posts from your phone. This is fine, but don't forget to proofread. Misspellings and poor grammar make you appear lazy. Potential employers will see this and might assume you'll submit work of the same quality, which could definitely keep you from scoring an interview. 
Ready to find your dream job? Management Registry, Inc. is here to help! Contact us today to find out what we can do for you!