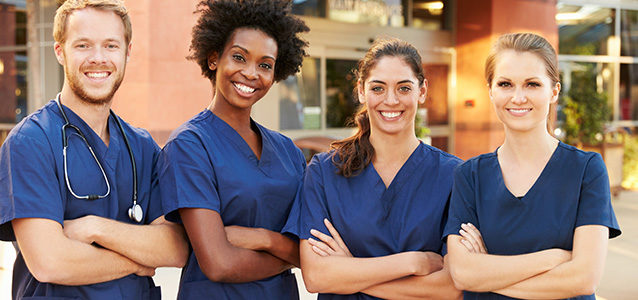 Nurses are a key player in every healthcare team, and it's finally time to give them the credit they deserve. The World Health Assembly has named 2020 the International Year of the Nurse and the Midwife — and that's a really big deal. 
The WHO, along with the International Confederation of Midwives, International Council of Nurses, Nursing Now, and the United Nations Population Fund will spend 2020 honoring the work of nurses and midwives and highlighting the challenges they face. These groups will also advocate for increased investments in these positions, as 9 million more nurses and midwives will be needed to achieve universal health coverage by 2030, according to the WHO. 
4
 Ways to Recognize Your Nursing Staff
Highlight the Work They Do
Chances are, many other employees at your facility don't know much about what it means to be a nurse. Sure, they have a basic idea of what the job entails, but they really don't know much about the work nurses do. Change this by publicizing the impact these heroes have on your patients. This might involve spotlighting a nurse each week on your intranet, creating a marketing campaign centered on your nurses, or sharing nursing-specific patient success stories on your web properties. 
Provide Ongoing Training
Your nurses are dedicated to helping others, so allow them to provide the best possible care by making training a priority. Investing in your nurses will make them feel valued and supported. Funding their continuing education and making it easily accessible shows you want them to be part of your team for the long term. 
Give Achievement-Based Awards
Nurses don't provide outstanding care for recognition, but it always feels nice. Let your nurses know their work doesn't go unnoticed by calling out their efforts. When someone really goes above and beyond, don't let their extra efforts slip through the cracks. Acknowledge their commitment to the job with an award they'll value — for example, a certificate of appreciation, an extra vacation day, or a cash bonus. 
Plan a Variety of Small, Meaningful Gestures
If you're realizing now that you don't do enough to show your nurses how much you appreciate them, it's not too late to start. Make 2020 the year you begin going the extra mile for your nurses. Surprise them with catered lunches in the break room, give them the new scrubs they've been asking for, and remember to say thank you on a regular basis. Gratitude doesn't always have to be a big production, because little things are often the most meaningful. 
Need a little help finding the right nurse for your healthcare team? Management Registry, Inc. is here to guide your search for the perfect fit. Contact us today to learn more!