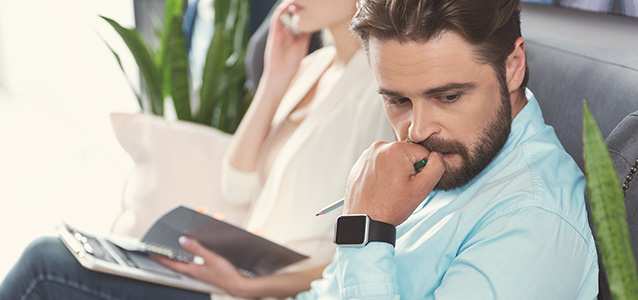 Job interviews can get the best of anyone's nerves. No matter how confident you are, it's only natural to become rattled when interviewing for a job that can change your career trajectory. 
Having a way to calm your pre-interview jitters is important because you want to arrive cool and collected. This will improve your interview performance, increasing your chances of getting hired.  
Use these tips to reduce your anxiety, so you can be your best self in your interview. 
4
 Ways to Calm Your Pre-Interview Jitters
Spend Time Preparing
It's hard to feel super nervous when you know you've done your homework. Prior to the big day, spending plenty of time researching the company, crafting responses to common interview questions, and devising well-thought questions to ask the interviewer. If possible, ask a friend or family member to mock interview you, so you can get comfortable saying your responses out loud. 
Decide what you'll wear in advance and try it on to make sure it's clean and still fits. This will make you feel more relaxed because you won't have to worry about a last-minute outfit disaster. 
Exercise
Combat nervous energy by starting the day of your interview off with sweat. This will release feel-good endorphins that help you relax. Go for a run, take a yoga class, or lift weights — whatever helps clear your mind and allows you to focus. This might mean you have to get up a little early, but it's well worth the effort.  
Take a Test Drive
The last thing you want to do is arrive late to your job interview. Not only will this send your anxiety through the roof — but it will also make a bad impression. Avoid this by taking a test drive to the office before the big day. This will allow you to become comfortable with the route and figure out where you'll park. Just remember to account for traffic conditions at the time of your interview when deciding when to leave on the big day. 
Envision Your Success
You're a talented professional this company would be lucky to have. Battle your nerves by picturing yourself in the job. This will give your confidence a boost because if you can dream it, you can make it happen.  
Need a little help finding a rewarding healthcare, general labor, or professional job? Contact Management Registry, Inc. today to start your search for a new career opportunity that checks all your boxes!