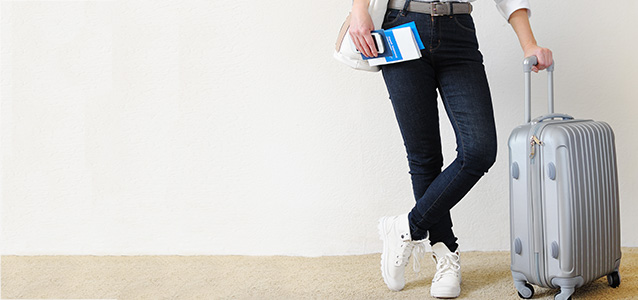 Working as a traveling healthcare professional is exciting. Every few months, you get to pick up and move on to a new city. This is a great way to see the country, meet new people, and gain a wealth of career experience. 
Of course, constantly having new surroundings also comes with risks. Being new in town and not knowing anyone can be a major safety hazard if you don't take proper precautions. Here's some advice to help you stay out of harm's way. 
5
 Tips to Stay Safe When Traveling for Work
Plan Your 
Journey
When driving to your destination, map your route in advance. If you're like most people, you'll use the GPS on your phone, but make sure you also have directions saved offline. An Internet connection might not be available in all areas, so this will keep you from getting lost. 
Knowing how long it will take to get there will also help you time your drive and plan your stops accordingly. Before leaving, figure out where you'll stop for lunch, gas, and stay overnight — if necessary. This can help you avoid both having to drive late at night and unsavory areas. 
Keep Loved Ones in the Loop
You might be in different parts of the country, but that doesn't mean you shouldn't keep friends and family informed of your whereabouts. From the drive to your destination to after–work drinks with colleagues, always let loved ones know where you are. This way, if you don't check–in by a certain time, they'll know something is up. 
Research the 
City
Learn as much as possible about your new city, so you're in tune with the area. Knowing how to dress and behave like a local can keep you from standing out and becoming a target. It will also help you learn which parts of town to avoid because sometimes this isn't super obvious on the surface. 
Don't Talk to Strangers
Being alone in a new city can feel isolating, so you might warm up to a chatty stranger faster than normal. In most cases, the person is probably just being friendly, but it's always better to err on the side of caution. Criminals prey on people alone in public, so avoid striking up a conversation with anyone you don't know — outside the confines of work. 
Befriend Your Colleagues
Getting to know your new co-workers can allow you to feel less alone in a new city while keeping you out of harm's way. As locals, they can fill you in on areas to steer clear of and offer inside advice that only someone who lives in the city would know. There's a good chance they'll also be happy to show you around, meaning you won't have to explore the city alone. 
Thinking about starting a career as a traveling healthcare professional? Management Registry, Inc. can help you find the right opportunity for your skills and interests. Contact us today to learn more!